Paris, the enchanting City of Light, never ceases to captivate the hearts of its visitors. An unparalleled blend of historic grandeur, artistic sensibility, and cultural vibrancy, Paris effortlessly charms everyone from solo explorers to groups of young adults on a European adventure. With iconic landmarks such as the Eiffel Tower, world-class museums like the Louvre, and quaint streets lined with chic boutiques and inviting cafes, the city offers a myriad of unique experiences to savour.
The rising popularity of Paris as a travel destination, especially among young adults, has seen the mushrooming of numerous hostels catering to different travel styles and budgets. The majority of Paris youth hostels are located north of the river, nestled amidst iconic landmarks and lively neighbourhoods (known as arrondissements). However, the southern part of the city also boasts a diverse range of affordable hostels, each exuding its unique charm and character.

According to 2023 data from Hostelworld, the average cost of hostels in Paris is around £27 per night during non-peak periods. However, during the peak tourist season, prices can surge to approximately £130 per night. But fear not, travelling on a budget in this enchanting city is still a possibility, given the wide range of cheap hostels in Paris that offer excellent value for money.
The list: Top hostels in Paris
Feel free to glance below at our curated selection of top hostels, or scroll further down for more in-depth information about each individual property.
Best hostel for budget travellers
If you're on the lookout for an excellent hostel in Paris on a budget, then you'd be hard-pressed to find a better option than the Beau M hostel. Freshly opened in January 2023, this modern and vibrant hub for budget-conscious travellers offers an irresistible mix of value and comfort. Located in the heart of the city, it's a top pick for those searching for cheap hotels in Paris city centre. Rated highly on Hostelworld, the Beau M hostel consistently receives glowing reviews from guests, testifying to its superb facilities and unbeatable location.
Now, let's get down to the nitty-gritty. As a guest at Beau M, you'll enjoy round-the-clock reception and security – perfect for those late-night adventurers or early morning risers! On top of that, they've got you covered with free WiFi throughout the hostel, so you can stay connected and share your Parisian experiences with friends back home. And for those who appreciate the little details, rest assured that your bed linen is included at no extra cost, making your stay at this budget hostel in Paris even more cost-effective.
So, if you're planning your next adventure and are in search of cheap accommodation in Paris, the Beau M hostel should definitely be on your radar. With its modern comforts, 24-hour services, and high ratings, it truly stands out amongst other budget options. Don't miss out on this gem – embrace the vibrant Parisian lifestyle without breaking the bank!
Best hostel for solo travellers
Craving a stellar Parisian adventure but seeking out some friendly companionship? The People – Paris Belleville is known as one of the best hostels in Paris, particularly for solo travellers. This spot has earned a reputation for its high security rating on Hostelworld, meaning you can sleep soundly knowing your stay is secure. And it's not just the safety that keeps solo explorers flocking here, the atmosphere is brilliantly warm and inviting, making it a top contender for the best hostel in Paris for solo travellers.
Let's talk about the perks, shall we? The People – Paris Belleville offers a rooftop terrace where you can sip your morning coffee or evening vin (that's wine), while soaking up views of the famous Paris skyline and iconic monuments. It's just the place for striking up a conversation with fellow globetrotters or jotting down thoughts in your travel journal. Indeed, this is one of the hostels in Paris for solo travellers that effortlessly combines communal spirit with personal space.
What's more, this hostel goes above and beyond with its amenities, all designed with the comfort of guests in mind. Expect free bed linen and free WiFi to keep you cosy and connected throughout your stay. Got an early morning or late-night arrival? No worries, the 24/7 reception is at your service! And to top it off, the helpful multilingual staff are always on hand to help you navigate your way around the City of Love. So, if you're looking for safe hostels in Paris that won't break the bank but still provide top-notch services, The People – Paris Belleville is your go-to spot.
Best student hostel in Paris
Tucked away in the vibrant heart of the 11th arrondissement, this youth hostel in Paris offers everything a student could need. Not only does it serve as a vibrant hub of youthful energy, but it also provides the ideal mix of affordability and comfort that makes it a top-notch student accommodation in Paris.
Now, who doesn't love a freebie, especially when it's a hearty breakfast to start the day? At the Auberge Internationale des Jeunes, the day kicks off with a free breakfast, an absolute treat for anyone with a student budget in mind. Plus, there's free WiFi, so whether you're keen on planning your Parisian adventures, or need to catch up with mates back home, you'll be well connected.
As a hostel in Paris for students, the Auberge Internationale des Jeunes understands the need for round-the-clock access. That's why they have a 24/7 reception, ready to assist with any of your needs, anytime. Washing machines are also at your disposal, adding that extra layer of convenience. So if you're seeking an accessible, budget-friendly, and vibrant youth hostel in Paris, the Auberge Internationale des Jeunes should top your list!
Best hostel for solo female travellers
When you're a solo female traveller on the hunt for a safe and secure spot in the City of Love, the question "where to stay in Paris solo traveller?" can feel a bit overwhelming. But don't worry, the perfect solution is tucked away in the heart of the city – MIJE Marais. This hostel in Paris has become a favourite amongst women travelling solo, and it's not hard to see why.
With its 24/7 reception and round-the-clock security guards, the MIJE Marais provides an extra layer of security, which is often the top priority for solo female travellers. No need to fret about returning late in the evening or navigating unfamiliar city streets, because this safe hostel in Paris has your back. Plus, it's brilliantly located, snuggled right between two key metro stations – Pont Marie and Saint-Paul – which means safer and simpler night-time travel.
Now to answer the burning question, "Is Paris safe for solo female travellers?" Absolutely, and it's thanks to places like the MIJE Marais. It's widely commended on platforms like Hostelworld, where solo female travellers sing praises of its safety measures, prime location, and friendly atmosphere. So, if you're planning a solo adventure to Paris, this hostel might just be your ideal match.
Best hostel near Eiffel Tower
The 3 Ducks Eiffel Tower hostel is one of the most iconic hostels in Paris near the Eiffel Tower, often acclaimed for its close proximity to the city's most famous landmark. This historic hostel, nestled in the heart of Paris, provides travellers with a comfortable, affordable, and, most importantly, accessible haven amidst the city's bustling streets. It's located in a picturesque neighbourhood, brimming with quaint cafes, sumptuous bistros, and chic boutiques, making it an ideal base from which to explore the city.
One of the defining aspects of the 3 Ducks Eiffel Tower hostel is its mere 15-minute walking distance from the Eiffel Tower. This makes it the closest hostel to the globally recognised monument, granting visitors an unparalleled opportunity to view and experience this architectural marvel at their leisure. The Eiffel Tower's impressive spire dominates the skyline, offering an enticing hint of what lies ahead as guests meander through the charming Parisian streets.
The hostel itself boasts a unique blend of comfort and style, striving to mirror the elegance that defines Paris. The 3 Ducks Eiffel Tower hostel has been beautifully renovated from an old post-inn built in the 18th century, thereby preserving its historic charm while also offering modern comforts. Guests can choose from a variety of accommodation options, ranging from shared dormitory rooms to private suites, catering to the needs of solo backpackers, couples, and groups alike.
Did you know? Quite a few G Adventures tours in Paris choose the charming 3 Ducks Hostel as their base.
Best hostel for partying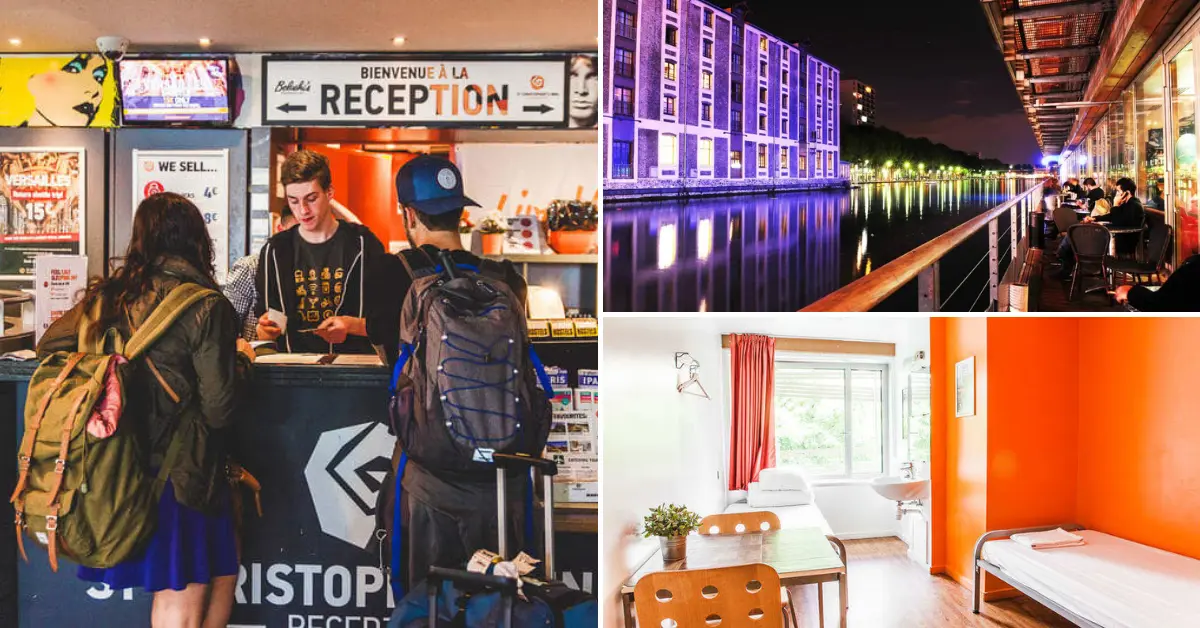 The hostel is located in a great location, just a short walk from many of Paris's most popular attractions. It also has a great bar and nightclub, which are always lively and full of people. If you're looking for a hostel that will help you make new friends and have a great time, St Christopher's Inn Canal is the perfect choice for you.
If you're looking to experience the vibrant nightlife of the City of Lights and seeking the best party hostels in Paris, you really can't miss St Christopher's Inn Canal hostel. Rewind to 2011 and you'd see this spot bagging the title of 'Most Popular Paris Hostel' at the prestigious Hostelworld Hoscars. With its laid-back vibe and sociable crowd, it's not hard to see why this place remains a fan-favourite amongst the younger lot exploring Paris.
Now, let's dive into what makes Saint Christophers hostel Paris one of the best party hostels in Paris. Picture this: after a day of gallivanting around the city, you head back to your hostel, freshen up and head straight to the in-house nightclub. And yep, you read that right, this hostel has its very own nightclub in the basement. So, whether you fancy a chill night with some great music or are in the mood to dance the night away, you're sorted.
What seals the deal though is the cherry-on-top offer of a whopping 25% off on food and drink at the hostel's on-site bar and restaurant for all guests. This means more money in your pocket to explore the city during the day and a budget-friendly, buzzing party scene at night! I reckon that's a pretty solid argument for why Saint Christopher's Inn Canal is indeed the best party hostel Paris has to offer. So, if you're a fun-loving soul, be sure to check out this place on your next Parisian adventure!
Best hostel in Paris for couples
If you're on the hunt for the best hostel in Paris for couples, look no further than the Hotel Paris Lafayette. This gem has been raking in rave reviews, claiming the spot as the highest-rated hostel in Paris. Perfect for a couple's getaway, it boasts private double rooms that blend comfort and style, ensuring you and your partner a cosy nest away from home. It's not just a hostel, it's a home base for your Parisian adventures.
Nestled right in the beating heart of a buzzing business district, the location couldn't be better. With an abundance of fantastic restaurants, lively bars, and stunning theatres practically on your doorstep, you're guaranteed to never have a dull moment. And, hey, don't sweat the transport! The metro Poissonnière is just a breezy 100 metres away. With Paris at your fingertips, it's easy to see why Hotel Paris Lafayette is considered one of the top hostels in Paris for couples.
You know, it's not just the best hostels in Paris that have a romantic aura – Paris hotels for couples can also dish up a helping of romance. But what sets Hotel Paris Lafayette apart is its unique blend of intimacy, convenience, and affordability that traditional hotels often can't match. So if you're ready for a memorable Parisian escapade without breaking the bank, pack your bags, grab your partner, and head over to Hotel Paris Lafayette – the ultimate Parisian couples retreat.
Paris hostel with a shuttle bus service
This place is more than just a bed for the night, it's got a pretty banging shuttle bus service too. Yep, you heard that right. No more worrying about navigating those labyrinthine Metro lines. Their shuttle bus can scoot you around to the hottest tourist spots in the city. It's the perfect way to take the hassle out of your Parisian adventure!
Now, let's get real for a sec. These extra services, the shuttle bus and also an airport transfer service (a real lifesaver for those dreaded early morning flights), aren't included in the base price of your stay. But hey, convenience rarely comes for free, right? Both these add-ons are paid extras, but they're definitely worth considering for a stress-free experience in the City of Light.
So, if you're after a Paris hotel with a shuttle bus service, Saint Christopher's Hostel Paris should be top of your list. Not only will you be staying in a wickedly cool location, but you'll also have access to top-notch services that make exploring and navigating this stunning city a breeze. So, what are you waiting for? It's time to get your Paris plans sorted!
Best wheelchair friendly hostel in Paris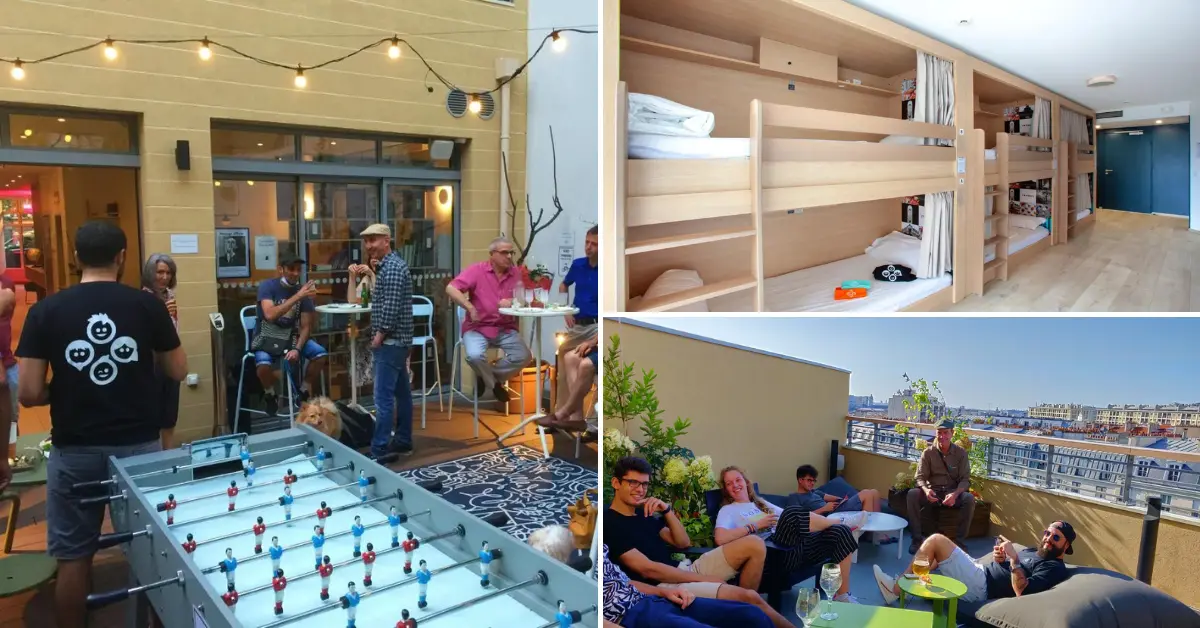 In addition to its wheelchair accessibility, People – Paris Bercy also has a number of other amenities that make it a great choice for travellers, including a bar, a restaurant, a laundry service, and a 24-hour front desk. The hostel also has a number of common areas where guests can relax and socialise.
People – Paris Bercy is smashing it out of the park when it comes to being one of the most wheelchair-friendly hostels in Paris. From accessible entrances to spacious dorms, they've ticked all the boxes. But it's not just about checking boxes, it's about making sure every guest feels at home. Their top-notch services don't end at ground level either, they've got a lift in the mix for that extra bit of reassurance. So whether you're here to see the Eiffel Tower or munch on some croissants, your stay will be easy-peasy.
Let's face it, trekking through Paris in a wheelchair can sometimes feel like more hassle than it's worth. But, hold your horses, because staying at an accessible hostel like People – Paris Bercy is a total game-changer. It means you can spend less time worrying about accessibility and more time enjoying the City of Love. Trust us, it's not just a hostel, it's an enabler for exploring Paris without the added stress.
What's more, People – Paris Bercy is not just ticking the 'bare minimum' box for wheelchair friendly hostels in Paris. They're raising the bar by providing a sense of independence and freedom to their guests. You're not just a room number here, you're part of the family. So, why not give People – Paris Bercy a whirl on your next trip to Paris? Wheel on over and you'll see why it's the cream of the crop when it comes to wheelchair-friendly stays in the city.
Best hostel with a 3 bed private ensuite room
Heading to Paris with your mates? You ought to check out Plug Inn Montmartre by Hiphophostels, recently rated as Paris's top-notch hostel on Hostelworld. It's not your ordinary hostel; think of it more as your private room hostel, a place where you can share a private room with friends. With triple rooms featuring cosy bunk beds and a single bed, your group of friends can have all the fun without sacrificing comfort and privacy.
What sets Plug-Inn Hostel apart is its ideal location. You know what they say – location, location, location. Well, Plug Inn Montmartre has hit the jackpot there! Just a stone's throw away from a metro station, it serves as your perfect springboard to explore the rest of Paris. No more stressing over long travel times or complicated transport routes; the city of lights is at your fingertips.
So, to all groups of friends planning their Parisian adventure, look no further. The Plug Inn Montmartre is your go-to option. Not only do you get to share a private room with friends, but you're also right in the heart of the city with everything within easy reach. Get ready to create unforgettable memories at the best private room hostel in Paris. See you at the Plug-Inn!
Best hostel in Paris with free breakfast
If you're planning a jaunt to the City of Lights but you're keeping an eye on the ol' bank balance, then boy, do we have a treat for you. Tucked away in the artistic enclave of Montmartre, the Caulaincourt Montmartre hostel is a little gem that makes Paris a bit easier on the pocket. Known for its cosy atmosphere, helpful staff, and high ratings, this budget friendly hostel has become a favourite among savvy globe-trotters. And why wouldn't it be? They're doling out not just top-notch accommodation, but also free city maps and WiFi to keep your travel life stress-free.
Now, what sets Caulaincourt Montmartre hostel apart from the rest is its delightful 'wake-up call' – a hostel with free breakfast, yes, but we're not talking about a measly slice of toast here. Imagine starting your day in the heart of Paris, tucking into a sumptuous spread of buttery croissants, wholesome cereals, and freshly squeezed orange juice. And don't forget the piping hot cuppa or the rejuvenating coffee, providing that essential caffeine kick before you head out to explore the city.
Staying at the Caulaincourt Montmartre hostel isn't just a roof over your head, it's a great way to save money while travelling, without compromising on the charm and charisma of Paris. With the freebies they throw in, from bed linen to a French-style breakfast, this place makes the 'budget' part of your trip feel like a bonus rather than a compromise. Because, let's face it, who wouldn't want to sip on a café au lait in Montmartre without fretting about the cost?
Best hostel with self-catering facilities
Imagine wandering the streets of Paris, filled with awe and enchantment, but without having to drain your wallet. That's the joy of staying at JO&JOE Paris – Nation, one of the finest Paris hostels with self-catering facilities. It's the ideal home away from home for free-spirited globetrotters on a budget who aren't afraid to get creative in the kitchen. The hostel, nestled in the heart of the city, is fully equipped with modern amenities and allows you to channel your inner chef, saving those precious Euros for exploring rather than expensive meals out.
But saving money at this self-catering hostel in Paris doesn't stop at cooking your own meals. JO&JOE Paris – Nation believes in the ethos of affordable yet fun travel, providing free bed linen, free maps of Paris, unlimited WiFi access, and even free city tours! It's all about experiencing more and spending less. So, whether you're mapping out your next day's adventure in the comfort of your dorm or sharing travel stories with new friends over a home-cooked meal, you're bound to feel right at home.
No wonder then that this gem among hostels in Paris is the preferred stop-off for travellers on the Contiki European Contrasts tour. JO&JOE Paris – Nation combines comfort, cost-effectiveness, and camaraderie, delivering an experience that's both unforgettable and easy on the pocket. So the next time you're planning a Parisian adventure, remember, a stay at JO&JOE Paris – Nation doesn't just mean a bed for the night, but a true taste of the City of Love, without breaking the bank.
Conclusion
In conclusion, our comprehensive guide presents an array of the best hostels in Paris catering to the needs and preferences of young adults. These hand-picked accommodation options offer something for everyone, from solo female travellers seeking a safe and comfortable haven, to social butterflies yearning for lively party hostels. Additionally, we've recognised the importance of inclusivity and have included a standout hostel renowned for its wheelchair-friendly amenities.
Every hostel we've featured boasts unique attributes and fascinating quirks, but all share a common trait – a commitment to providing a memorable stay in the heart of one of the world's most enchanting cities. The spectrum of options that Paris offers makes it not just the city of love, but also a haven for young travellers on their unique journeys.
This collection of Parisian hostels will provide you with the springboard to create unforgettable memories, whether you're wandering along the Seine, exploring charming boutiques, marvelling at iconic landmarks or immersing yourself in the vibrant nightlife.
All the hostels listed in this guide can be securely booked on Hostelworld, free from credit card fees, ensuring that your Parisian adventure is off to a seamless start. The process is straightforward, guaranteeing a hassle-free experience as you prepare for your trip.
FAQs
Absolutely, hostels in Paris are generally safe for young adult travellers, although, as with any other city, it's always important to keep your wits about you and take necessary precautions.
Here are some tips and suggestions for staying safe while enjoying your stay in Paris:
1. Research your hostel: Before you book your hostel, do a bit of homework. Read reviews from other travellers who've stayed there before. Look for mentions of cleanliness, staff friendliness, and safety. A well-reviewed hostel will usually indicate a reliable choice.
2. Use lockers: Most hostels in Paris provide lockers for securing your personal belongings. It's a good idea to make use of these, especially for your passport, money, and other valuables. Remember to bring a sturdy padlock with you.
3. Be aware of your surroundings: While Paris is generally safe, it's a big city and, like any big city, it has its areas that are best avoided late at night. Ask your hostel staff about the neighbourhood and they will be able to advise you on where and when you should be careful.
4. Get travel insurance: It's not something we always want to think about, but having travel insurance can give you peace of mind. Hopefully, you'll never need it, but in the unlikely event that something does go wrong, you'll be glad you have it.
5. Follow general travel safety tips: This includes things like not flashing expensive items around, keeping an eye on your drink, and not sharing too much personal information with strangers. It's all about being smart and trusting your instincts.
6. Choose female-only dorms if needed: If you're a solo female traveller and concerned about safety, you might want to consider booking a bed in a female-only dorm. Many Parisian hostels offer this option.
Paris is a fantastic city full of culture, history, and life. It's a great place for young adults to explore, meet new people, and have a wonderful time. Just remember to stay safe and you're sure to have an amazing experience!
The choice between a hostel and a hotel can make a huge difference to your Paris adventure, especially as a young traveller.
First off, let's talk about budget. Hotels in Paris can be pretty pricey, even for the most basic ones. On the other hand, hostels are typically a fraction of the cost, leaving you with more money to spend on what you're really there for – experiencing the city! You know, things like having an extra croissant at breakfast, visiting the Louvre or even splashing out on a Seine river cruise.
Another bonus when you're travelling on a shoestring is that many hostels have kitchen facilities. This means you can save even more by cooking your own meals every now and then, which isn't usually an option in hotels. Besides, nothing says budget savvy like a home-cooked meal using ingredients sourced from a local Parisian market!
Now, onto the social aspect. If meeting fellow travellers and making new friends from around the world sounds like your kind of thing, then a hostel is definitely for you. The communal spaces, like lounges, kitchens, and often bars, provide a casual and friendly environment to strike up conversations, exchange travel stories and even plan adventures together. You might even find someone who's planning to visit the same museum or café as you, and just like that, you've got a new travel buddy!
Hostels also tend to organise social events, tours, and activities, which can be a great way to see the city and meet like-minded individuals. This can really add another dimension to your travel experience, something that's usually missing from hotel stays.
Ultimately, choosing a hostel in Paris as a young traveller can give you a more budget-friendly, sociable and authentic experience. You'll be right in the thick of it all, meeting folks from all walks of life, and making unforgettable memories in the city of love.
Hostelworld is an absolute godsend for travellers, and booking your hostel in Paris through them has a load of benefits.
First and foremost, it's just really straightforward. You can easily compare hostels based on price, location, amenities, and ratings by other travellers. You know, all the important stuff that helps you make an informed choice. And once you've decided, the booking process is as smooth as a good French red wine.
And speaking of reviews, this is another big plus. Hostelworld has a treasure trove of real, honest reviews from travellers who've been there and done it. These can give you a solid idea of what to expect from the hostel and help you avoid any potential pitfalls.
Another thing I love about Hostelworld is their flexibility. Most bookings can be changed or cancelled without any fuss. This can be super helpful if you're travelling on a whim and your plans change, or, let's be honest, if you just can't resist staying another day in that lovely little Parisian café.
What's more, booking with Hostelworld is secure and doesn't involve credit card fees. The last thing you want to worry about when planning your Paris adventure is if your booking is safe, right? So, they've got you covered on that front.
Lastly, their customer service is top-notch. If you run into any issues with your booking, you can reach out to their team and they'll help sort things out.
Hostelworld uses a rating system of 1 to 10, with 10 being the highest rating. Hostels are rated on a variety of factors, including:
Location: The hostel's location in relation to popular tourist attractions, public transportation, and other amenities.
Cleanliness: The hostel's cleanliness, including the rooms, bathrooms, common areas, and kitchen.
Facilities: The hostel's amenities, such as Wi-Fi, a bar, a restaurant, and a laundry service.
Staff: The hostel's staff, including their friendliness, helpfulness, and knowledge of the local area.
Value for money: The hostel's price in relation to its location, cleanliness, facilities, and staff.
Security: The hostel's security measures, such as keycard access, security cameras, and a 24-hour front desk.
Atmosphere: The hostel's atmosphere, such as whether it is social, quiet, or somewhere in between.
Overall: The hostel's overall rating, taking into account all of the above factors.
When you are searching for hostels on Hostelworld, you can filter the results by rating to find hostels that meet your needs. You can also read reviews from other travellers to get a better sense of what a hostel is like before you book.
The peak season in France is generally from June to September, when the weather is warm and sunny. This is also when most schools are on summer vacation, so there are more tourists in France. As a result, hostel prices in Paris are typically higher during this time.
Here are some specific dates to keep in mind when planning your trip:
July and August: These are the two busiest months of the year in France. Hostel prices are at their highest during this time.
June and September: These months are still considered peak season, but prices are slightly lower than in July and August.
October to May: These months are considered off-season, and hostel prices are much lower. However, the weather can be unpredictable during this time, so it's important to pack for all types of weather.
If you're looking to save money on your hostel stay, it's best to avoid traveling during peak season. You can also try booking your hostel in advance, as this will often give you a better price.