Are you planning to take a gap year or looking for an opportunity to explore Australia while working and supporting yourself financially? The Working Holiday Visa Subclass 462 might be the perfect option for you!
In this comprehensive guide, we'll cover everything you need to know about this visa, including eligibility criteria, application process, visa conditions, and ways to extend your stay.
What is a subclass 462 visa?
The Working Holiday Visa Subclass 462 is a temporary visa that allows individuals aged 18-30 (or 18-35 for certain countries) to work and travel in Australia for up to 12 months. This visa is specifically designed for young adults who want to explore the country while also working to support themselves financially.
Eligibility criteria
Before you apply for the Subclass 462 visa, it's essential to understand the eligibility requirements. Let's delve into the key criteria you need to meet:
Age requirements
To be eligible for this visa, you must be at least 18 years old and not have turned 31 yet. Some flexibility might apply to applicants from certain countries, so be sure to check the specific requirements for your nationality.
Nationality requirements
There are two main criteria for eligibility. These are the country you have a passport for, and your age.

You must hold a valid passport for one of the following countries – and you must be aged 18-30 years (inclusive):

Argentina, Austria, Chile, People's Republic of China, Czech Republic, Ecuador, Greece, Hungary, Indonesia, Israel, Luxembourg, Malaysia, Peru, Poland, Portugal, San Marino, Singapore, Slovak, Republic Slovenia, Spain, Switzerland, Thailand, Turkey, Uruguay, United States of America & Vietnam.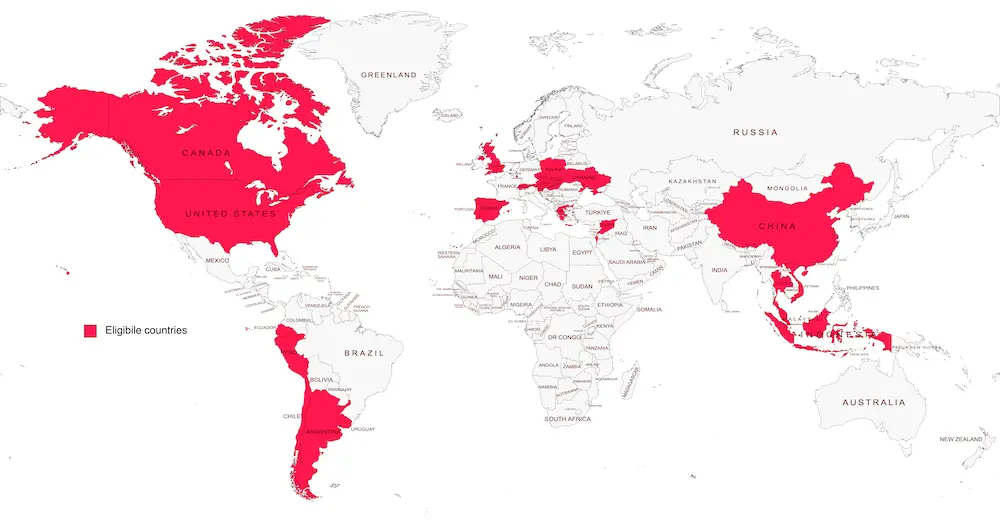 The Working Holiday Visa Subclass 462 is available exclusively to citizens of select countries, fostering diverse cultural exchanges and strengthening international ties with Australia.
If you are not from one of these countries, then you may be able to apply for the subclass 417 working holiday visa.
Financial requirements
You must have sufficient funds to support yourself during your stay in Australia. The Australian Government typically requires applicants to have at least AUD 5,000 when entering the country.
Education requirements
The subclass 462 education requirements will vary depending on which country you are from.

Some countries will require a tertiary qualification, some will need you to have completed 2 years of undergraduate university study, and others will require a degree or diploma.
Health and character requirements
Applicants must meet certain health and character requirements, including undergoing a medical examination, if requested, and providing a police clearance certificate from each country they've lived in for 12 months or more in the last 10 years.
Visa subclass 462 application process
Applying for working holiday 462 visa is a straightforward process, here's how to go about getting yours:

First, go online and create an ImmiAccount. It's really easy – you just need to fill out some basic details. The first thing you need is your passport showing your name, personal details, and passport issue and expiry dates.

And you'll also want a copy of your birth certificate that shows both parents' names.

If you can't provide a birth certificate, you must provide a copy of the identification pages of a government-issued identification, a court-issued document that verifies your identity or a family book showing both your parents' names.
To support yourself financially, you should have copies of your bank account showing you have sufficient funds ($5000). for your journey home, as well as an extra return flight.

If they want proof of your character, they'll need character documents, including military records, but someone from the Australian government will contact you if they're needed.

You must remember that all documents you attach to your working holiday visa application must be in English.

Those who are not have to be provided with a translation that includes the translator's details. You'll need clear, colour scans or photographs of each of these documents.

It is a best practice to save documents in single files.
How much does a subclass 462 visa cost?
It costs $495 to apply for a subclass 462 working holiday visa.

We highly recommend using a professional working holiday service such as Global Work & Travel. They have helped thousands of young people successfully obtain their working holiday visas to Australia and provide excellent service when you're working and travelling in Australia.
What happens after I submit my visa application?
Sit back and wait – it won't take too long to hear back.

The good thing is that you will be notified when your visa application has been received – but you must not arrange to travel to Australia until you have been notified in writing that your 462 subclass visa has been granted!
How long does a 462 visa take to get approved?
25% of 462 visa applications are approved in just 9 days with 50% taking 26 days to be approved. But in some cases it can up to 4 months if you don't follow the guidelines correctly or forget to attach the right documents.

You can avoid any costly mistakes by using a working holiday company such as Global Work & Travel. Once your visa has been approved, you have 12 months to begin using your new visa.
Visa conditions and work restrictions
While the Subclass 462 visa allows you to work in Australia, there are some conditions and employment and study restrictions you need to be aware of.

You can work in Australia for up to 12 months, but you cannot work for the same employer for more than six months. This rule encourages visa holders to experience a diverse range of jobs and locations during their stay.

With the Subclass 462 visa, you are allowed to study or train for up to four months in total. This provides an opportunity to enhance your skills or gain new qualifications while in Australia.
Extending your stay on a Subclass 462 visa
For those who fall in love with Australia and wish to extend their stay, there's good news! You may be eligible for a second Subclass 462 visa if you meet certain requirements.

To qualify for a second year, you must have completed at least three months of specified work in northern Australia or other specified regional areas during your first year. This work must be in tourism and hospitality, agriculture, forestry, or fishing industries. Be sure to check the updated list of eligible postcodes and industries on the Department of Home Affairs website.
Conclusion
The Working Holiday Visa Subclass 462 is an incredible opportunity for young people to explore Australia while working and supporting themselves. By understanding the eligibility criteria, application process, and visa conditions, you can make the most of your time in this beautiful country. Remember to stay informed about any updates or changes in visa regulations to ensure a smooth experience.
Subclass 462 visa FAQs
Yes, for some nationalities, a letter of support is required when applying for a Subclass 462 visa. The letter of support is an official document from your home country's government, endorsing your application for the Working Holiday Visa. The requirements for obtaining a letter of support vary depending on your nationality, so it's essential to check the specific guidelines for your country.

To obtain a letter of support, you may need to provide proof of your age, nationality, financial resources, and intention to return to your home country after the visa expires. Some countries also require applicants to pay a fee for the letter of support.

It's important to note that not all nationalities need a letter of support for a Subclass 462 visa application. Be sure to verify the specific requirements for your nationality on the Australian Government's Department of Home Affairs website or consult your country's embassy or consulate in Australia.
The Australian Government needs to see that you have enough funds to apply for a subclass 462 working holiday visa.

What they mean by "enough money", is that you have at least $5,000 AUD to support yourself while you're in Australia, and that you also have enough money in reserve to leave Australia at the end of your working holiday.

If you have a return ticket back home, then make sure to supply this as evidence when applying for your working holiday visa to Australia.
Character checks are not required by every working holiday applicant and you will only need to supply documents if asked by the Australian Government during your visa application.

If they do request the, they may ask for an overseas police certificate from every country, including your home country. Another character document could include any military service records or discharge papers you hold.
Whether you need to take a health examination for a Subclass 462 visa depends on various factors, such as your intended activities in Australia, your country of citizenship, and your travel history. In some cases, the Australian Government may require you to undergo a health examination to ensure you meet the health requirements and do not pose a risk to public health.

Here are some situations in which you may be asked to take a health examination:
Intended work or activities: If you plan to work in certain occupations or engage in activities that involve close contact with vulnerable populations, such as healthcare, childcare, or aged care, you may be required to undergo a health examination.
Country of citizenship or residence: Applicants from certain countries with a higher risk of specific diseases may be required to complete health examinations.
Travel history: If you have spent a significant amount of time in countries with a higher risk of certain diseases, you may need to undergo health examinations.
Pre-existing medical conditions: If you have a pre-existing medical condition that could affect your ability to meet the health requirements or could pose a risk to public health, you may be required to take a health examination.
If a health examination is required, the Department of Home Affairs will inform you during the application process. They will provide you with the necessary information about the examinations, such as the specific tests required, the panel physicians authorised to conduct the examinations, and the time frame for completing them.

It's essential to follow the instructions provided by the Department of Home Affairs and complete the required health examinations promptly to avoid delays in the processing of your Subclass 462 visa application.
No, you cannot apply for a Subclass 462 visa if you have previously held a Subclass 417 visa.
To prove you have functional English, you need to provide evidence to the Australian Government that you are a citizen of and hold a valid passport issued by the United Kingdom, the United States of America, Canada, New Zealand or the Republic of Ireland.

If you cannot provide this evidence then you can show that you completed a degree, a higher degree, a diploma or a trade certificate in an institution in or outside Australia that required at least two years of full-time study and all instructions were in English.

And if you can't provide any of the above, you'll need to show that you undertook your education at one of the following institutions: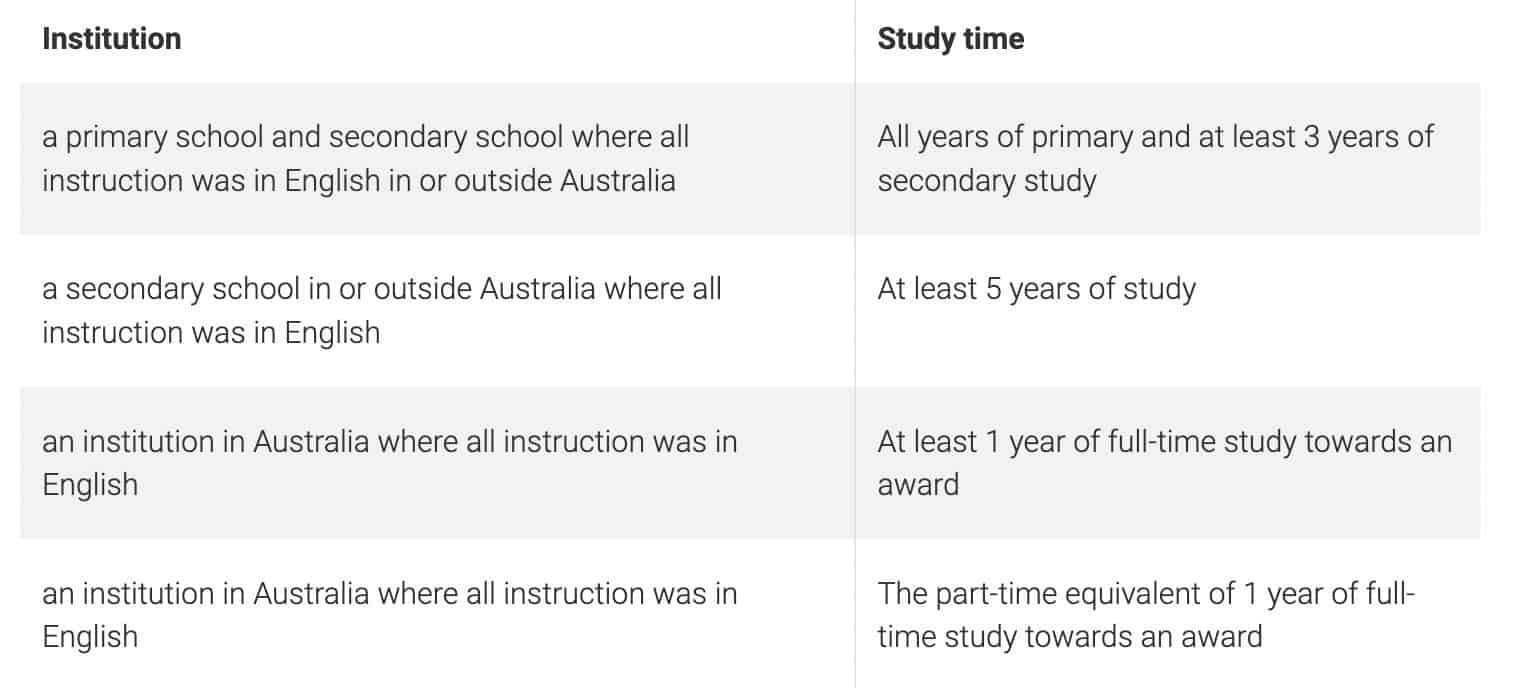 Valid institutions for 462 visa functional English requirements.