World Nomads travel insurance has become increasingly popular among young, adventurous travellers. Designed by travellers for travellers, this insurance provides a comprehensive range of coverage options that cater to those under 35 years old, offering peace of mind for the trip of a lifetime. In this blog, we will delve into the top reasons why Nomads travel insurance is the ideal choice for young travellers.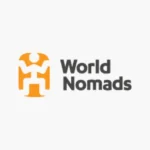 Over 200 adventure activities are covered
Trip insurance from World Nomads is specifically tailored for adventurous travellers seeking to explore the world and immerse themselves in exciting experiences. Recognising the unique needs of these spirited explorers, World Nomads has crafted insurance plans that provide extensive coverage for over 200 activities, ranging from popular adventure sports such as scuba diving and mountain biking to more niche pursuits like camel trekking and zorbing.

This comprehensive coverage ensures that young travellers can embark on their journey with confidence, knowing that they are protected against unforeseen incidents and accidents. In addition, World Nomads' flexible and customisable policies allow policyholders to adapt their coverage to their evolving needs throughout their travels, making it an ideal choice for those who crave adventure and spontaneity while exploring the world.
There's just two plan options
World Nomads has streamlined the process of purchasing travel insurance by offering a simple, two-plan option that caters to the diverse needs of travellers while ensuring cost-effectiveness. By providing a choice between the Standard Plan and the Explorer Plan, World Nomads eliminates the complexity often associated with selecting the right insurance coverage.

The Standard Plan offers basic coverage suitable for most travellers, whereas the Explorer Plan caters to those seeking more extensive coverage for adventurous activities. This straightforward approach to travel insurance allows young travellers to easily choose the plan that best aligns with their specific travel requirements and budget, making World Nomads a hassle-free and cost-effective solution for securing peace of mind on their journeys.
You can purchase or extend your policy after you've left home
One of the standout features of Nomads travel insurance is the ability to purchase or extend trip insurance even after your travels have commenced. This is particularly beneficial for young, spontaneous travellers who may decide to prolong their trip or embark on new adventures without prior planning.
World Nomads understands the dynamic nature of travel, especially for the younger generation, and offers this flexibility to ensure that policyholders remain protected throughout their journeys, regardless of any unexpected changes or detours.

The convenience of being able to adjust your coverage while on the go not only provides peace of mind but also encourages young travellers to explore the world without constraints, knowing that their insurance will always have their back.
Excellent trip essentials included
World Nomads travel insurance, designed by travellers for travellers, provides comprehensive coverage tailored to the unique needs of globetrotters. Recognising the importance of ensuring peace of mind during trips, the policy includes extensive cover for a wide range of situations, such as pregnancy-related issues, lost or stolen baggage and high-value tech items, trip cancellation, acts of terrorism, and COVID-19 related disruptions.

Additionally, World Nomads understands the critical nature of medical emergencies abroad and offers coverage for situations where evacuation may be necessary. By addressing various travel concerns, World Nomads travel insurance allows travellers to focus on their adventures with confidence, knowing they are well-protected against unforeseen circumstances.
The claims process is super easy
One of the key reasons behind the positive World Nomads reviews is the user-friendly and efficient claims process. With World Nomads travel insurance, filing a claim is a hassle-free experience, even during your trip. Their online claims platform allows you to submit your claims from anywhere in the world, at any time, ensuring that your travel experience remains uninterrupted.

The speedy processing of claims means that you can expect a swift resolution, providing you with the financial support you need without unnecessary delays. This ease of use and efficiency in handling claims has made World Nomads a preferred choice for many travellers, further solidifying its reputation as a reliable and customer-centric travel insurance provider.
World Nomads covers travellers from over 150 countries
World Nomads travel insurance takes pride in its global availability, catering to travellers from over 150 countries worldwide. This broad reach ensures that regardless of your nationality or destination, World Nomads has you covered. By offering comprehensive insurance plans tailored to the unique needs of travellers from diverse backgrounds, World Nomads has become a go-to choice for people seeking reliable and adaptable travel insurance.

So, whether you're exploring the bustling streets of Asia or the remote corners of Europe, you can embark on your journey with confidence, knowing that Nomads travel insurance has your back every step of the way.
Nomads insurance is trusted by travel brands
World Nomad insurance has earned the trust and endorsement of numerous renowned tours companies and operators, including Intro Travel, Contiki, and HostelWorld, to name a few. These partnerships are a testament to the reliability and credibility of World Nomads as a travel insurance provider.

When established and respected organisations within the travel industry vouch for a particular service, it offers peace of mind to potential policyholders, assuring them that they are investing in a trustworthy and legitimate insurance solution. By choosing World Nomads insurance, young travellers can confidently embark on their adventures, knowing that they are backed by a reputable company with strong industry connections and endorsements.
Summary
With customisable coverage, comprehensive trip insurance, and an easy claims process, it's no wonder World Nomads travel insurance is a top choice for under 35-year-old travellers. Choose World Nomads for your next adventure and travel with confidence knowing you're well protected.
Speed Of Claim Processing