In a bold move to make a strong impression on the British public, millennial travel company WeRoad has unveiled its first-ever international out-of-home (OOH) advertising campaign. The campaign, titled "Grab Your Backpack," aims to inspire Brits to abandon their daily grind in favour of exploring the world with a group of new friends.
Following its expansion into new markets in late 2022, the campaign has gone live not only in London, but also in Rome, Milan, Madrid, Barcelona, and Paris. WeRoad is leveraging its unique selling point of uniting solo travellers for unforgettable experiences.

This OOH campaign, which marks WeRoad's first major advertising push in the UK, features over 3,700 ads spread across London. The city-wide takeover ensures that Londoners cannot miss WeRoad's enticing invitation to swap their desk job for an exciting new adventure.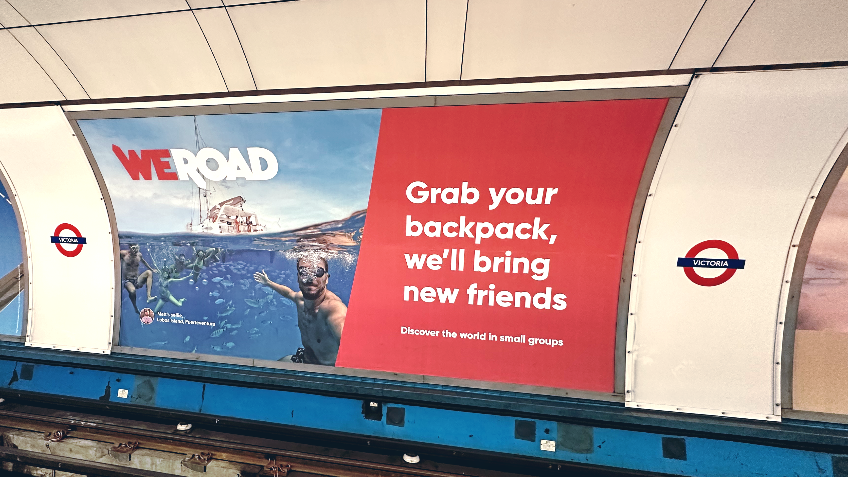 WeRoad's advertising campaign on the London Underground is a part of the over 3,700 ads spread across London, providing commuters with an enticing invitation to explore the world with a new group of friends.
The "Grab Your Backpack" campaign showcases a variety of creative designs, all expertly crafted in-house by the WeRoad marketing team. The campaign aims to resonate with millennial language, humour, and the desire to create new experiences with others.

Key London tube stations will display a combination of 48 and 16 sheet cross track ads, as well as 12 and 4 sheets in key station tunnels. These ads will feature group selfies taken by actual WeRoad travellers on trips to destinations such as Thailand, Nepal, Peru, Cuba, Turkey, Iceland, Jordan, Canary Islands, and Morocco.
The tagline "Grab your backpack, we'll bring new friends" emphasises WeRoad's USP of connecting solo travellers in a unique, authentic way. In addition to the tube station ads, WeRoad has developed creatives for carriages throughout the Underground network. The second carriage of every Underground train will feature witty copy-led ads, incorporating online slang and relatable scenarios to engage with its target audience of millennial travellers.

During peak commuter travel hours, buses throughout London will be adorned with eye-catching, copy-led creatives from WeRoad. These ads will play on WeRoad's USP of bringing together solo travellers for thrilling adventures, replacing the daily rush with a genuine adrenaline rush.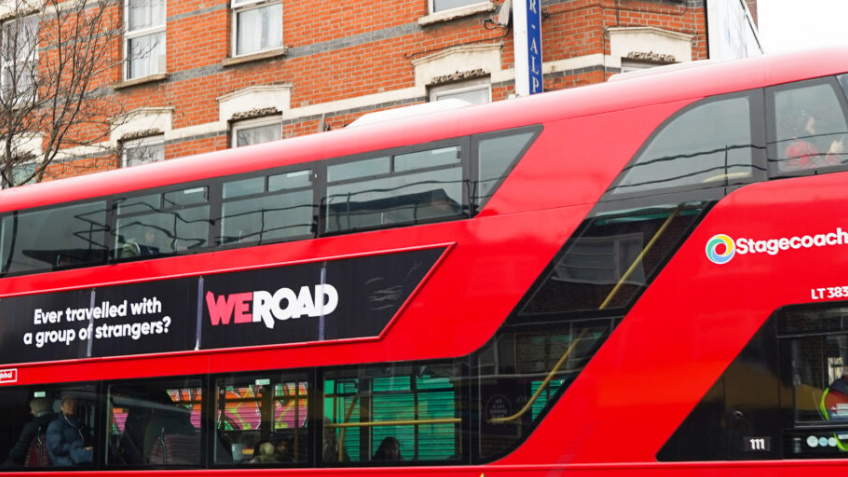 WeRoad encourages Brits to trade their daily grind for new adventures and to make meaningful connections with like-minded travellers.
The entire campaign was developed internally by the WeRoad team, led by CMO Fabio Bin and executed in London by UK Marketing Manager Justyna Chlopecka. The company was also responsible for purchasing media space for its first above-the-line multi-market campaign, handpicking key sites across London that would best resonate with its target audience.

Fabio Bin, CMO and Co-Founder at WeRoad, highlighted the importance of using real group selfies captured by WeRoad travellers to showcase the company's community-driven approach to travel. Justyna Chlopecka, UK Marketing Manager at WeRoad, noted the challenges of creating a campaign that maintains the brand's essence while remaining relevant in each market, but expressed confidence that this campaign is the perfect way to formally introduce WeRoad to the British public on a larger scale.

If WeRoad's recent advertising campaigns on the London Underground have piqued your interest in booking an immersive travel experience, the process is both straightforward and secure. WeRoad has partnered with TourRadar, one of the world's largest online travel agencies, to offer clients an easy and reliable way to book their next adventure.

With TourRadar, clients can browse WeRoad's diverse range of travel itineraries, read detailed descriptions, and book with confidence, knowing that their personal and financial information is protected. From exotic destinations like Peru and Thailand to iconic European cities such as Paris and Rome, WeRoad's travel packages cater to a wide range of interests and preferences, and with the security of TourRadar's booking system, clients can focus on the excitement of their upcoming adventures.