Embarking on a 14 day Japan tour is more than a holiday—it's an odyssey into an enigmatic world where past meets future. From neon-lit streets to serene shrines, Japan presents an enthralling adventure especially for young adults eager to experience the world. Here's the ultimate Japan itinerary for 14 days tailored for the youth of today.
How to do 14 days in Japan
You've got two weeks to immerse yourself in the Land of the Rising Sun. Here's how to make the most of it:
Days 1-4: Tokyo
The pulsing heart of Japan, Tokyo is a stunning amalgamation of old and new. Wander the historical districts of Asakusa or immerse yourself in the tech paradise of Akihabara. Don't forget Shibuya, with its world-renowned crossing and vibrant nightlife.
Must-visit: The futuristic Odaiba and the serene Meiji Shrine.
Pro-tip: Book a spot at a themed café; it's a uniquely Tokyo experience.
Days 5-7: Kyoto
Formerly Japan's capital, Kyoto is home to exquisite temples and vibrant geisha districts. Bike through Gion at dusk or experience a traditional tea ceremony.
Must-visit: The enchanting Arashiyama Bamboo Grove.
Pro-tip: Dedicate a day to Nara, home to friendly deer and towering Buddha statues.
Days 8-9: Osaka
Japan's kitchen and a paradise for food enthusiasts. Relish delectable street foods, from takoyaki to okonomiyaki, while exploring the bustling streets.
Must-visit: Osaka Castle, a historical gem amidst urban sprawl.
Pro-tip: Head to Dotonbori at night for unbeatable street food experiences.
Days 10-11: Hiroshima & Miyajima
Learn about Japan's poignant history in Hiroshima and visit the nearby Miyajima, home to the iconic floating torii gate.
Must-visit: Hiroshima Peace Memorial Park.
Pro-tip: Try Hiroshima-style okonomiyaki.
Days 12-14: Hakone & Mt. Fuji
Wind down your Japan tour by soaking in an onsen with views of the majestic Mount Fuji.
Must-visit: Lake Ashi and the Hakone Shrine.
Pro-tip: Stay in a ryokan for an authentic Japanese experience.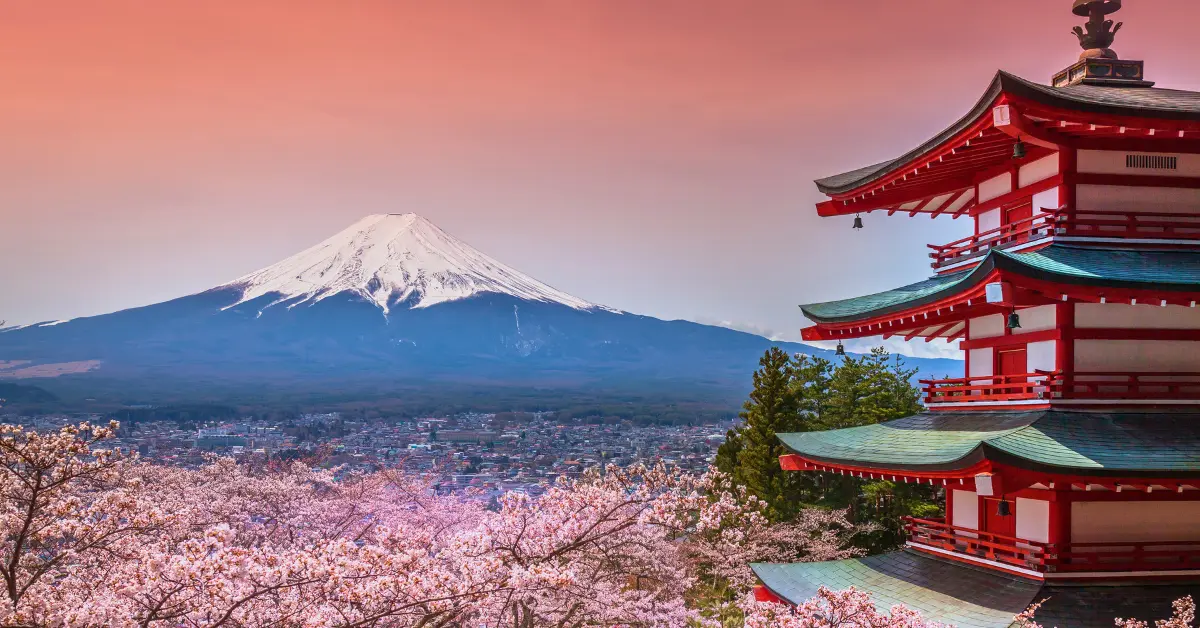 Solo adventure vs. group tours
Whether it's the tranquil Zen gardens, the frenetic pace of Tokyo, or the lure of sumptuous sushi, the Land of the Rising Sun promises an intoxicating journey. But how to explore it – solo or with a band of fellow travellers? Let's delve into the ins and outs.
Going solo: March to your own beat
Pros:
Freedom: The most liberating aspect of solo travel is the absolute freedom it offers. Fancy lingering a little longer at the Kyoto shrines? Or maybe you want to dive deep into Akihabara's tech and anime wonderland? When you're solo, the itinerary is all yours.
Personal Growth: Navigating the labyrinthine streets of Osaka or striking up a conversation with locals can be daunting, but there's no better way to grow than to push your boundaries. You'll return with not just memories, but a renewed sense of self-confidence.
Deep Dive: Travelling by yourself often leads to more immersive experiences. There's something intimate about sitting alone in a ramen bar, taking in the sights and sounds, that's hard to replicate with company.
Cons:
Loneliness: As much as solo travel can be a voyage of self-discovery, there will be moments when you wish you had someone to share a particular sight or experience with.
Costs: Accommodating just one can sometimes be pricier on a per-person basis. Those double rooms or shared experiences often come at a discount when split.
Embracing the pack: The group tour way
Pros:
Shared Experiences: Every awe-inspiring temple, every hilarious lost-in-translation moment, is enjoyed with others. The camaraderie that emerges from group tours often leads to lifelong friendships.
Hassle-Free: No need to fret over train schedules or hotel bookings. With a group tour, the nitty-gritty of planning is taken care of, leaving you to soak up the experiences.
Local Insights: Group tours often come with knowledgeable guides. This means you get deep dives into history, culture, and local spots you might miss on your own.
Cons:
Less Flexibility: Those spontaneous detours to a hidden bar or an unplanned day at a quirky museum? They're less likely on a group tour where schedules are pre-set.
Potential Mismatch: You're rolling the dice on group dynamics. A mismatch in interests or pace can affect the quality of your experience.
How to budget for a 14 day Japan visit
Japan might have a reputation for being pricey, but with smart planning, young adults can experience its wonders without breaking the bank.
Accommodation: Consider capsule hotels or hostels, which are both affordable and quintessentially Japanese.
Transport: Invest in a JR Pass. It covers most bullet trains and offers tremendous value for inter-city travel.
Food: Conveyer belt sushi joints and ramen shops offer scrumptious meals without the hefty price tag.
Activities: Opt for free or low-cost attractions. Many temples, parks, and neighbourhoods don't require an entrance fee.
Best 14 day Japan tour operators
Exploring Japan solo is an adventure, but if guided experiences are more your style, there are many tour operators tailored for young adults.
Your 14 days in Japan will be a mesmerising blend of rich tradition and futuristic innovation. Every corner offers a new discovery, from cherry blossom-filled parks to neon-laden streets. With the right itinerary, your Japan visit will be an unforgettable journey that will stay with you for a lifetime. Dive in and embrace the magic. Safe travels!
Conclusion