If you're a young professional seeking an unforgettable adventure, look no further than the Maldives Island Hopping Tour by Koda Sail. This tour offers a perfect alternative to the traditional sailing Croatia tour, allowing you to explore the breathtaking beauty of the Maldives in a unique and exciting way. Get ready to embark on an extraordinary journey from Malé to Malé, hopping between stunning islands and creating memories that will last a lifetime.
Contrary to its name, the Maldives Island Hopping Tour doesn't involve sailing on a yacht. Instead, you'll stay in comfortable hotel accommodations on the islands. Koda Sail ensures that you have a seamless and convenient travel experience with their speed boat transfers between the islands. Say goodbye to crowded ferries and hello to a smooth and enjoyable ride across the crystal blue waters of the Maldives.
Koda Sail Maldives tour overview
Accommodation is a crucial aspect of any trip, and Koda Sail understands the importance of comfort and relaxation. Throughout the tour, you'll stay in well-appointed, air-conditioned twin share or double rooms with private en-suite facilities.

Fresh linen, bathroom towels, and beach towels are provided, ensuring that you have everything you need for a comfortable stay. With free WiFi at the hotels, you can easily share your incredible experiences with friends and family back home.
Now let's dive into the tour highlights that will make this island hopping adventure truly unforgettable. Each day presents a new opportunity to tick off items from your bucket list while immersing yourself in the stunning beauty of the Maldives.

Start your mornings by watching the mesmerising sunrise from a secluded beach, setting the tone for a day full of adventure and exploration. Get ready for exhilarating daily excursions that include jumping off the boat into the crystal blue waters, swimming with magnificent Whale Sharks, and discovering the vibrant marine life that calls the Maldives home. Keep your eyes open for Reef Manta Rays and Green Sea Turtles as you explore the captivating underwater world.

For the thrill-seekers, activities like Stand-Up Paddle boarding and parasailing are available, allowing you to experience the adrenaline rush amidst the breathtaking scenery. Indulge in a night fishing excursion and savour a fresh seafood dinner, or simply unwind by the poolside while enjoying a refreshing cocktail at one of the exquisite resorts. The tour also includes visits to famous water bungalows, dolphin spotting, and the opportunity to explore a shipwreck.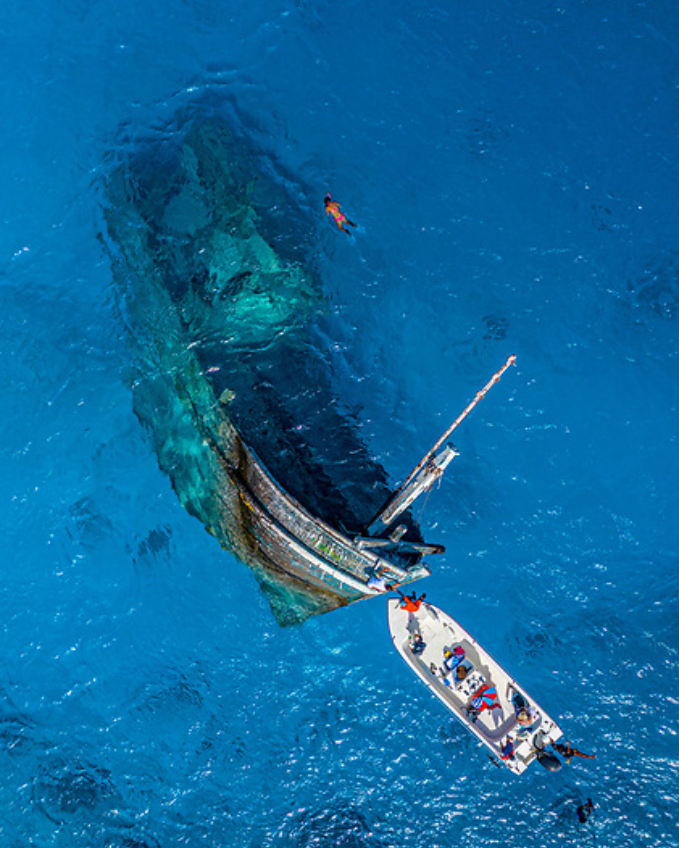 Discover the captivating allure of the Vaavu Atoll shipwreck in the Maldives.
Rest assured, Koda Sail has taken care of all the essentials to make your journey smooth and enjoyable. Alongside the incredible accommodation and thrilling activities, your package includes daily breakfasts, two lunches, and two dinners. You'll also receive two bottles of water each day, ensuring you stay hydrated during your adventures.

Throughout the tour, you'll be accompanied by Koda Sail's team of knowledgeable guides, who will be there to assist you every step of the way.

They'll provide you with orientations of each destination and ensure that you have an unforgettable experience throughout your journey.
Additionally, the tour includes speed boat transfers between the islands and airport transfers at the beginning and end of the tour, making your travel hassle-free.
Tour highlights
Kickstart your days with gorgeous sunrises from a secluded beach
Daily excursions
Enjoy lunch on a sandbank in the middle of the ocean
Get up close and personal with local local Whale Sharks, Manta Rays & Green Sea Turtles
Night fishing & seafood dinners
Explore ship wrecks under crystal clear blue waters
Help out Mother Nature with the Dhigurah beach clean-up project
Live it up on a private Maldives boat party
Maldives Island Hopper itinerary
Day 1: Malé to Dhigurah
Day 2: Whale shark excursion & Dhigurah Beach Clean up
Day 3: Scuba diving & a cooking class on Dhigurah
Day 4: Dhigurah to Maafushi via the Vaavu Atoll with a shipwreck swim stop
Day 5: Scuba diving Guraidhoo reefs and night fisihing
Day 6: Maafushi resort day with night-time party boat
Day 7: Water sports and beach day
Conclusion
Koda Sail offers group tours specifically designed for young professionals, making it an ideal choice for like-minded individuals seeking a unique and exciting travel experience. The Maldives Island Hopping Tour allows you to explore the natural wonders of this paradise on Earth, creating memories that will stay with you forever.

So why wait? Pack your bags and get ready to embark on the adventure of a lifetime with Koda Sail. Explore the stunning Maldives, indulge in thrilling activities, and forge lifelong friendships along the way. The Maldives Island Hopping Tour is your gateway to an unforgettable experience in this tropical paradise.