Are you planning your first Contiki tour or already booked on one of their exciting adventures? Then you need to know all about the Contiki Basement London. Centrally located in the heart of London, the Contiki Basement is the ultimate pre-tour hub for those aged 18-35, offering everything from meet-ups to travel assistance. Read on to find out more about this fantastic space.
What is the Contiki Basement London?
The Contiki Basement London is a one-stop-shop specifically designed for young travellers embarking on a Contiki tour. Conveniently located near some of London's top attractions and hostels, it serves as a central meeting point for all Contiki tours leaving from the city. But the Contiki Basement is much more than just a meeting point – it's a travel resource centre, a social hub, and a place to get your bearings before your adventure begins.

As a young traveller, you'll find the Contiki Basement to be a lively, energetic space filled with fellow travellers who share your passion for exploration. It's an excellent opportunity to make new friends and connect with people from all over the world who are just as excited about their upcoming Contiki tour as you are.

See: Top 5 hostels perfect for your London Contiki departure.
What services are available at the Contiki Basement in London?
The Contiki Basement in London offers a range of services to make your pre-tour experience as smooth and enjoyable as possible. Here's what you can expect:
Meeting point: This is where all Contiki Tours leave from in London. Simply arrive at the designated time, and you'll be whisked away on your adventure.
Luggage storage: Need a place to stash your bags before your tour starts or after it ends? The Contiki Basement has secure luggage storage facilities for your convenience.
Travel assistance: The friendly staff at the Contiki Basement can help you with any last-minute travel arrangements, such as booking accommodation, arranging transportation, or providing advice on the best sights and activities in London.
Free Wi-Fi: Stay connected with family and friends back home, share your pre-tour excitement on social media, or catch up on the latest travel news with the Contiki Basement's complimentary Wi-Fi.
Lounge area: Relax, unwind, and socialise with fellow travellers in the comfortable lounge area, complete with charging stations and a selection of board games, books, and magazines.
Exclusive discounts: Enjoy special discounts on local attractions, restaurants, and shopping, available only to Contiki Basement visitors.
How to get to the Contiki Basement from Heathrow Airport
The Contiki Basement is located at 38-51 Bedford Way, Bloomsbury, London WC1H 0DG.

If you're coming to London for your Contiki tour, then the chances are that you're going to arrive at Heathrow Airport. There are several ways to reach the Contiki Basement from Heathrow Airport:
Tube: Take the Piccadilly Line from Heathrow Airport to Piccadilly Circus station. From there, it's a short walk to the Contiki Basement.
Overland train: Take the Heathrow Express train to Paddington Station, then transfer to the Bakerloo Line and travel to Piccadilly Circus station. The Contiki Basement is a short walk from there.
Taxi/Uber: Taxis and Ubers are available at Heathrow Airport. The journey to the Contiki Basement should take approximately 45-60 minutes, depending on traffic.
Follow these step-by-step instructions on how to get to the Contiki Basement from Heathrow.
Contiki Basement gallery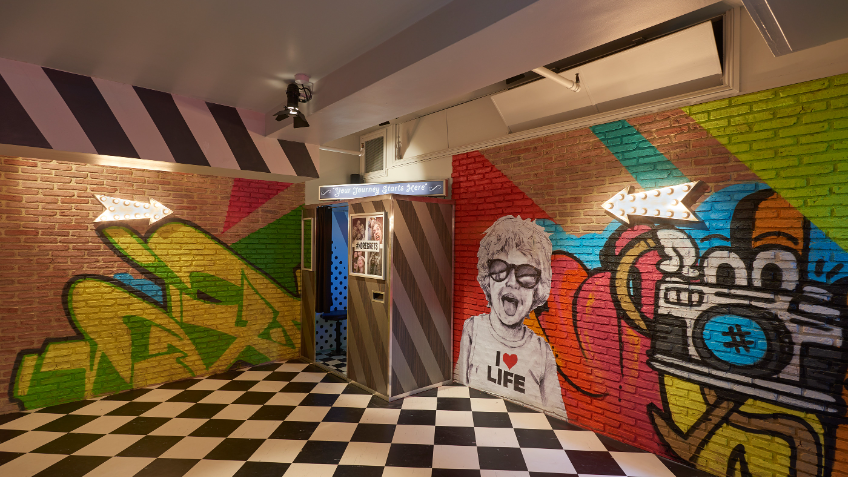 If you haven't yet booked a Contiki tour, now is the perfect time to explore the latest deals on offer. With a wide range of exciting destinations, unique itineraries, and incredible experiences, there's something for every young traveller to enjoy.

Visit the Contiki website or check out the latest Contiki promo codes and deals and make your dream trip a reality.
Important update from Contiki
The Contiki Basement is currently closed. But don't worry, if you're checking in for your Contiki tour, you can still do so without any hassle. Simply head to the designated Contiki meetup area, located next to the reception desk inside the Royal National Hotel.
It's right above the Contiki basement, so you won't have to go far. We have reached out to Contiki who assure us that the basement will be reopening later in 2023, and we'll make sure to keep you in the loop.